In July of 2017, Allied Concrete starting offering Stabilized Sand and Slurry to its customers.
A wide range of underground construction projects use cement stabilized sand for backfill and bedding. For sites with weak or slow draining soils (like much of the Gulf Coast), customers can use stabilized sand during site preparation for any project that will benefit from a low-cost yet stable base. We can customize each stabilized sand mix to meet the needs of any project. Our typical cement/sand mix is 1.1 to 2.0 sacks of cement per ton of bank sand.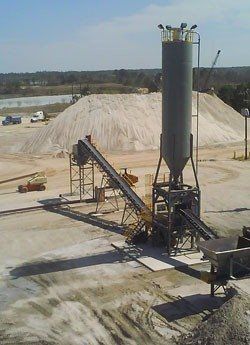 Bank Sand
We also can provide both washed and unwashed Bank Sand, when stabilized sand is not necessary.
Unwashed sand can be used for a wide variety of fill projects, including site preparation, as it compacts well. We provide washed sand varieties (sand that has been cleaned and is free of debris and clay) ranging from fine sand to coarse sand. The type of sand required depends on the specific application and needs of the project.
For more information on stabilized sand please contact Sylvia Lyons at 218-354-4446 or sylvia.lyons@alleytonresource.com
Cement Slurry
SuperSlurry™ utilizes a patented state-of-the-art mixing system to produce a superior cement slurry that maximizes cement particle distribution and provides unmatched consistency. SuperSlurry's distinctive properties allow for greater coverage and delivery distance than more common cement slurries. Although unique, conventional construction equipment can place SuperSlurryTM. Unlike other soil treatments that begin to break down during and after application, the patented SuperSlurry™ process bonds soil particles together, resulting in decreased permeability, increased structural value, and compressive strength.
SuperSlurry™ is produced in a semi-mobile plant and transported to job-sites in bulk tankers (pneumatic, super dumps, or tankers with spreader bars, etc. ) that are capable of spreading SuperSlurry™ at the job site. For larger projects that require high daily volumes, the plant can be re-positioned to the job-site for dedicated production. Please call 281-238-1020 for more information or to place an order.
For questions and inquiries please contact Al Woodward at 281-570-9640 or al.woodward@alleytonresource.com